Squarespace and WordPress are both well-known platforms for building, managing and publishing a website in no time. Their available resources like features, functions and other top-notch web design materials help users effortlessly systematize their online presence.
You don't have to be a technical geek or super professional to use any of these platforms. It only requires some basic knowledge and proper utilization. Once you've completed the necessary steps, your web-designing experience will undoubtedly improve.
However, Squarespace is a software as a service (SaaS) website builder, whereas WordPress is a self-hosted platform that lets you host your website. Apart from some similarities, some differences may work for you, or maybe not. Actually, it depends on your business!
That's why you need proper research to uncover which one is the best platform that suits your brand & expectations. Or, if you're already using Squarespace or WordPress, this will help you easily understand the actual comparison.
Yes, we will briefly compare Squarespace vs WordPress, share some amazing facts about these platforms, and highlight their pros and cons. So, if you want to build a website without any problems, you should look into both of them before making a decision.
First thing first, let's get started with the basic comparisons below. Keep reading!
Core Differences Between Squarespace and WordPress
Before jumping to the core differences between Squarespace and WordPress, let's have a look at some of the basic comparisons below. It will dispel your preconceived notions about these two platforms!
| | | |
| --- | --- | --- |
| | Squarespace | WordPress |
| Base | It's a SaaS platform | It's an open-source platform |
| Hosting | A hosted website builder tool | Self-hosted tool to let users build & customize their site |
| Ease of use | Easy to use and implement | Requires some steps to complete the entire installation process |
| Design & Flexibility | It's like – what you see what you design | It enables you to create any design pattern within your website |
| Additional features | Helps users to use drag-drop for the customization | Using WordPress plugins, you can do it swiftly |
| eCommerce Features | Has all the essential elements to create an online shop | The WooCommerce lets users create their online store in WordPress |
| Initial Pricing | Initial pricing starts at 12$/month (personal) | The only cost if you buy a premium domain & hosting plan |
| Security | It secures your website automatically | You have to secure your site by yourself by installing security plugins like – WordFence |
| Maintainance | 24/7 Support service | WordPress support forum |
These are the basic comparisons that you can make initially. Now let's briefly discuss some of these two platforms' critical parts to understand their comparisons.
Ease of use
The hosted platform yet Squarespace is fully compatible and easy to use & modify. Without needing to apply any codes or tech skills, anyone can make the best use of this platform to create a website easily. Plus, the ready-made templates let you input the information you think to add.
To get an initial start with Squarespace, you need to follow some easy steps.
Register for a new account
After that, you'll get a few questions about what type of websites you want to build
And then, you need to choose a theme for your website
From the same window, you can edit your theme or customize any particular part of your theme to get your job done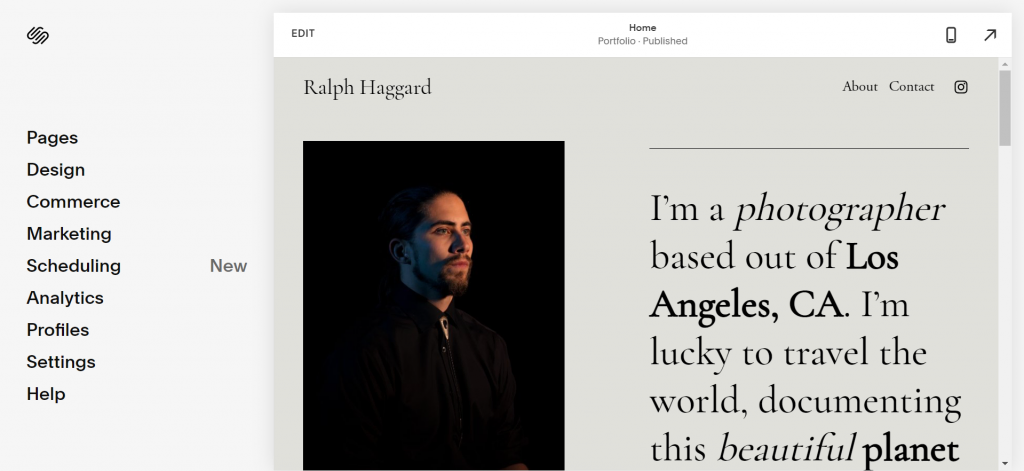 Once you edit any page, you can individually add your content, and remove or modify it the way you want.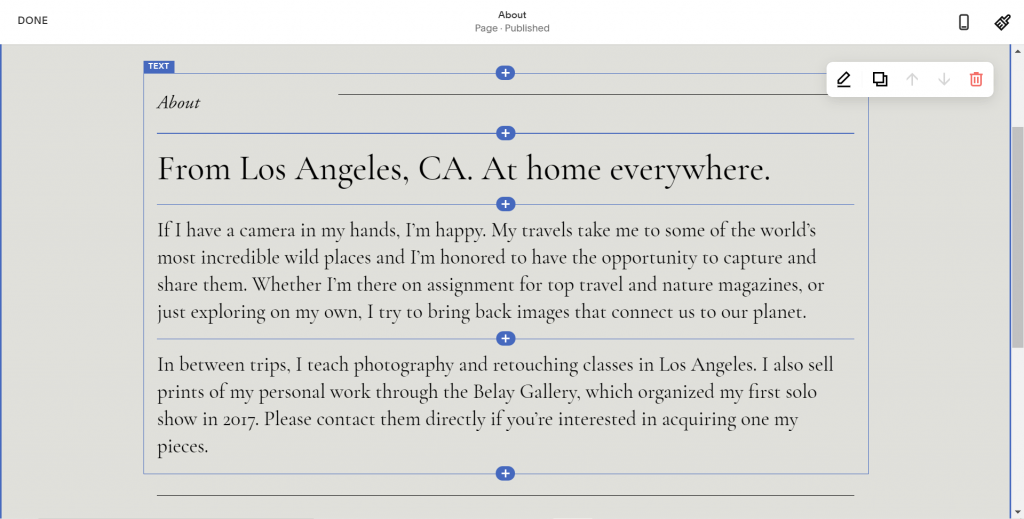 It gives you a feeling like – "what I see what I get". The below screenshot shows how you can align text, arrange the formatting, and so on.
Now let's talk about WordPress. It's a free and open-source content management system. Users with a minimum range of technical experience in web browsing can quickly adapt to WordPress. Available plugins, themes, and documentation could easily brush up anyone's mind with the fresh content management experience.
However, you need to follow a few steps to build a WordPress site completely. Let's shortly have a look at them:
Purchase a domain name & hosting plan
Install WordPress
Download a theme
Add pages
General settings
Install essential plugins
Optimize your site for SEO
Publish your site
So the winner is Squarespace based on Ease of use!
Also Read: More Interesting Facts and Stats About WordPress
Additional apps or plugins
You can get all the essential apps or plugins within the Squarespace dashboard. Once you have completed the initial installation stages in Squarespace, you can choose the features individually for your site. Squarespace comes with a good selection of apps already built into your site, including tools for blogging, tracking performance, and displaying images.
All these features are in-built, and you can get them anytime with Squarespace. So it's a real-time saver fact for users as you can use or get a preview of each feature before using it. Apart from these, you can get some additional functions if you desperately need them. In that case, you can use the Squarespace app market called Extensions.
On the other hand, WordPress has unlimited plugins and themes in its ecosystem. You can avail of them in two ways, directly from WordPress.org or from the WordPress dashboard.
WordPress has over 55,776 plugins to expand your website. You can use the search bar or sort by category.

Website builder experts
WordPress plugins such as:
Page builder plugin
SEO tool
Contact form
Email marketing
Multivendor marketplace
And so on
But the issue is – you can't understand the in-depth feature before using it. For that, you must install and check it one by one or go through the official documentation to get yourself educated about plugins or themes.
That's it! Apart from general use cases, both platforms don't require programming skills or coding experience to utilize themes or plugins. So you can follow Install >Activate and Use the way you want it.
However, both Squarespace and WordPress have some premium plugins or extensions. Depending on your business or site's structure, you can purchase them.
In this portion, WordPress wins hands down depending on the additional features, plugins, and exclusive theme facilities.
Design Capabilities
As said, Squarespace lets you customize all the web pages within the dashboard. By filtering the category, you can find the extensions you need and then begin customizing your web pages. Depending on the site structure or template, you can add or remove the extensions. But the only limitation is – you must explore design patterns while staying within the given format. Other than that, you'll have a great experience with Squarespace.
However, here are a few benefits that you can get while you design anything layout with Squarespace:
Drag-drop customization
User-friendly interface
Category filter feature
In-built templates
No coding requires
Talking about WordPress, you always have tremendous scopes to customize things the way you want in it. There are several free themes out there in the WordPress ecosystem. By enabling them, you can customize each section according to your plan.
Here is an article that you might want to check out now that covers how to choose a WordPress theme for better results.
WordPress child themes like – Twenty 21, Astra, Avada, and Hello are fantastic to get an initial kickstart. After that, you can install page builder plugins like – Elementor, Happy Addons, or Gutenberg to create any landing page layout that helps drive expected traffic to your site.
The winner, in this case, is WordPress for its easy access and variety of user-friendly facilities.
Content management for better blogging
Squarespace has an excellent feature for bloggers. It's a Blogger template. It has everything you need to organize content or blog posts from a single feed in reverse chronological order into a compact magazine format, such as by category, tag, or most recently updated blog. Depending on whether bloggers want to display their blog content on the website, this template allows them to do that swiftly.
Plus, you can add multiple people responsible for making content and show them publicly. Apart from these, you can also show your social media feed on your web page. Thus, it improves the overall look of your blog site.
Now let's see what WordPress offers for its users:
Like Squarespace, WordPress has a bunch of free templates for bloggers. It has built-in features that include all the tagging and categorizing abilities that bloggers expect. Also, you could find some awesome social media plugins to connect and interact with the readers.
WordPress also lets users access HTML directly, which isn't available in Squarespace for professional bloggers who want to update their blog's layout. Along with these, anyone with a WordPress account can comment, connect, and build a relationship with the authors through other WordPress blog comment sections. This process also produces authority and helps the community grow and flourish.
Guess who the winner in this part is? You guessed it right, it's WordPress!
Still confused? Let's learn Why WordPress Is So Suitable For You!
SEO
Last, but not least! Let's talk about SEO:
Squarespace has some cool SEO features such as follows:
Meta titles and descriptions: These are the title and paragraphs that describe a page in Google search results
URL optimization: You can clean up your URLs to make them more readable to search engines
Image alt text: Alt text also helps search engines understand the purpose and relevance of each image.
Page redirects: If you change a page's URL and someone tries to visit the old one, Squarespace will let you automatically send them to the new one!
Automatic sitemaps: A sitemap is a list of the different pages on your site designed to help search engines determine how they're all related. Squarespace generates one of these for you automatically.
These tools are integrated, meaning you won't need to download any extra plugins to access them.
WordPress websites have some built-in SEO features, but most of the platform's impressive power comes from its SEO plugins. You need to install it yourself.
For example, plugins like Yoast SEO rank math guide you through the best SEO practices, from creating cornerstone content to adding keywords and meta descriptions.
In a sense, we can say the winner is both WordPress and Squarespace. These platforms have some helpful SEO features to optimize users' websites smartly.
The Pros and Cons of Squarespace and WordPress That You Can Consider
After getting a brief idea about the features and essential functions of WordPress & Squarespace, now it's time to talk about the pros and cons. It'll clear your concept to choose the most suitable platform for your business:
Pros of Squarespace
Looks incredible
Great for integrating marketing, SEO, and emails
Sites are mobile responsive
Update features automatically
The editor and templates are super easy to use
Setup is quick and easy
Cons of Squarespace
Customizing the sites can be highly UN intuitive
Navigation for editing the sites can be difficult and frustrating
You can't switch after you start making a site with one version
Squarespace would be improved by offering options for variants for downloadable products
WYSIWYG can be challenging to work with
Templates can be limiting
Plugins & advanced features are mostly not an option
Pros of WordPress
WordPress is a robust content management system
There are over 54,000 mostly free and paid plugins
WordPress sites are mobile-friendly
Search Engine Optimization Ready
Auto-updates are available
Excellent social media integration
Easy transition from one side to the other
Cons of WordPress
Daily plugin or theme updates could fail
Chances of getting hacked
Site speed issue
There is also no built-in SEO functionality
Some of the themes don't work with specific plugins
If you're looking for an eCommerce platform, there may be other more satisfactory options
Should support more extensions
How to Choose Between Squarespace vs WordPress?
Now you know all the fundamental differences, pros & cons, and other features of WordPress and Squarespace. In choosing the right platform for your business, you need to think about your business, time, budget, and resource.
Whether you want to use WordPress or Squarespace, you must carefully consider these facts. Once you're done, then you can conclude. But we can say WordPress is an all in all CMS platform to let you build any website within a minute. Let's see what type of websites you can create with both these platforms:
| | | |
| --- | --- | --- |
| Type of Website | WordPress | Squarespace |
| Small business website | ✅ | ✅ |
| Portfolio website | ✅ | ✅ |
| Blog | ✅ | ✅ |
| Online store | ✅ | ✅ |
| Membership website | ✅ | ❌ |
| Directory website | ✅ | ❌ |
| Wiki/knowledge base | ✅ | ❌ |
| Multilingual website | ✅ | ❌ |
| Podcast website | ✅ | ✅ |
Website building capabilities of WordPress and Squarespace
From the above comparison table, we can easily decide that WordPress could be a suitable option for your business to get a kickstart. It's easy to insert content in the search you want, and also, you can move or transfer all the data whenever you want.
Let's say you have a growing Squarespace website with massive monthly traffic. Managing these vast audiences seems to be a tricky business for you. So now you want to switch your Squarespace site to WordPress. Below we have shared an easy process to migrate from Squarespace to WordPress.
How to Migrate From Squarespace to WordPress (Step-by-Step Guide)
To perform the migration process, you need to follow some steps. Below are the steps you must complete before sitting to migrate your entire site from Squarespace to WordPress.
Do make sure to complete the above steps before running the migration process.
01. Export your content from Squarespace
Once you're done with the above steps, now we'll show you how you can export data from Squarespace.
First, you'll have the settings option after entering the Squarespace editor panel. Then, open the Settings area.
Now inside the settings option, navigate to Advanced → Import/Export. Then, click the button to Export:
You'll get a window where you can get two options to export, WordPress and Products.
After that, you'll see an option to download your site's details to export. So click this button.
Once the process is done, you'll get a file to download – named Squarespace-WordPress-Export-DATE.xml. Keep this file because you'll need it in the following steps.
02. Import your content to WordPress
The next step is to put the content you downloaded from Squarespace into your WordPress site.
So, log in to your WordPress admin area and go to the Tools > Import page. You will get a list of different platforms to choose from.
Squarespace won't be on the list because it exports content in an XML file format that works with WordPress. You need to click on the "Install now" button.
WordPress will now fetch and install the importer. After you finish it you need to click on the Run Importer link to continue.
On the next step, click on the choose file button to upload the exported file you downloaded from Squarespace.
WordPress will now upload and analyze your exported file. Once it's completed, then it will show you the import settings page.
On the same page, you will need to choose an author name for the imported content. Plus, this import the Squarespace user details and add them as a subscriber to your site. Either way, you can choose an existing admin user as the author or create a new user.
There is an option to import attachment images, we'll talk about it later.
Move forward and click on the submit button, WordPress can start importing content from your Squarespace site.
After the process end, you'll notice a success message. Now you can visit the pages and posts in WordPress to check the imported content.
03. Import your images to WordPress
At this stage, your in-content images from Squarespace should still be appearing. Also, you can notice that the image's URL has still the Squarespace details.
As you're transferring the data from Squarespace to WordPress, so it should include your WordPress site data in your URL.
By using Auto Upload Images, you can fix this issue. Then install and activate the plugin.
Then, make sure all of your posts are up-to-date so that the plugin can import your images. You can select bulk updates to save time and effort.
Now navigate to the Posts area in your WordPress dashboard
Check all the posts
Select Edit in the Bulk Actions drop-down
And then Click Apply
Once you get in there, just click the Update button (don't change anything – just hit update):
Another thing to add, if you have a lot of blog content, you can use the Screen options and change the number of posts. This will let you edit all of your content at once:
04. Fixing internal links
The last thing you'll need to do is restore the internal links. As you have migrated your site details along with permalinks, so the existing links will take visitors to an invalid page.
To fix that, go to Settings > Permalinks. Here, choose the link structure that best matches your Squarespace site. After that, run through the links and edit them by selecting /blog-1/ as a prefix to each link.
You may still get some 404 errors. A possible solution to this problem is to install a plugin that helps find and fix 404 errors for you.
So that's all you can know about this migration process. You have successfully migrated from Squarespace to WordPress!
However, previously we have covered how to migrate from Wix to WordPress. You can check this article to know the end-to-end process to transfer all the site details from Wix to WordPress.
Important FAQ about WordPress & Squarespace
01. Which is better for blogging, Squarespace or WordPress?
Ans: WordPress is the better solution for blogging because, unlike Squarespace, it has an auto-save option and version history features to check the typos. It also lets you use categories and tags more refined than Squarespace.
02. Is WordPress better than Squarespace?
Ans: It relies on what kind of website you are creating. We'd recommend Squarespace if you are making a particular website. On the flipper side, we'll suggest WordPress if you are building a website that needs unconventional features.
03. Is Squarespace easier to use than WordPress?
Ans: Both platforms are pretty straightforward to use. Once it's published, modifying the fonts & colors used in a Squarespace site is generally more comfortable than WordPress. But Squarespace is easier to set up, whereas WordPress usually involves quite a lot of formatting.
04. Is WordPress cheaper than Squarespace?
Ans: The pricing model of Squarespace and WordPress is different. Squarespace includes everything in one package, whereas you need to buy themes, plugins, and hosting separately with WordPress.
05. Is WordPress free?
Ans: Self-hosted WordPress is free to download — however, running a WordPress site can involve paying for hosting, themes, plugins, and development.
06. Does Squarespace own my domain?
Ans: No. You own the domain name. Squarespace helps you register your domain name.
07. Is WordPress still relevant?
Ans: Definitely. WordPress still powers more websites than any CMS or website builder— it's not even close.
08. Which website builder is easier to use, Squarespace or WordPress?
Ans: You can use Squarespace without needing to know a line of code, which makes it great for the non-technical among us. It's a more accessible option compared to WordPress.
So Which One You're Going Use, WordPress or Squarespace?
The post has come to an end. We just completed showing an in-depth comparison between Squarespace vs. WordPress and discussed the features and functions possibilities you can consider before using any of these platforms.
In comparison, we have noticed that WordPress provides many facilities to give a more fantastic structure and some handy features. In some cases, you may not be comfortable with the built-in features of Squarespace as it has certain limitations. But with WordPress, you'll have plenty of options that enable you to explore things to modify your site structure.
So it's your turn to choose between Squarespace and WordPress. No matter which platform you're Squarespace or WordPress, the question must not be what type of website do I right now. It should be what type of website I desire to have in 1 year. It will help you stay on track and upgrade your online appearance.
If you have already used both Squarespace and WordPress, what are your thoughts? Would you suggest a different website builder other than these two? Do let us know in the comments section below. If you have enjoyed this post and found it resourceful then feel free to share the content or link to it.
if you enjoy reading then you may also like to subscribe to our newsletters to get more refreshing content about WordPress, business solutions, marketing tips and more.