Divide and conquer- is a popular way to solve a big problem breaking it into small pieces. In project management, the Work Breakdown Structure (WBS) utilizes the same technique. It breaks down a complex project into a hierarchy of deliverables and tasks. All the steps are connected together to achieve a common objective under some predefined circumstances.
A leading cause of project failure lies in the wrong estimation of the required time period and the cost involved with completing the project. In that case, having a segmented project layout helps you to find the right working path.
Today we'll show you how to subdivide a complex project using the Work Breakdown Structure. But before we look at the steps involved in WBS, let's start with the basic first –
Why Use a WBS in Project Management?
Since WBS divides a big project into manageable chunks thus, it becomes easy to assign tasks to the responsible person, distribute all the resources and allocate time for each individual task. Therefore, you can meet all the deadlines ensuring maximum utilization of the available resources.
According to the Project Management Book of Knowledge (PMBOK)-
Work Breakdown Structure is a deliverable oriented hierarchical decomposition of the work to be executed by the project team.
In simple words, this productivity technique subdivides the project into phases, deliverables, and work packages. It is a tree structure that demonstrates all the steps required to accomplish a common goal.
What else?
There are numerous benefits to subdivide a big task into several pieces. It helps you to-
Visualize all the tasks, timelines, and budgets
Define a project outline and develop a schedule
Design a step-by-step workflow
Assign responsibilities and clarify roles
Make the work more manageable and approachable
Better risk identification
In the context of project management, let's know the specific definition for these words-
Work: The end result of any activity. As per PMBOK, "work products or deliverables that are the result of effort and not the effort itself". It means "work" defines the final result of any activity.
Deliverable: Any unique, distinct product or result that leads towards project completion. According to PMBOK deliverable is "any unique and verifiable product, result, or capability to perform a service that is required to be produced to complete a process, phase, or project".
Work package: The work required to complete a specific element or aspect of the project. PMBOk gives a simpler definition: "a work package is a deliverable at the lowest level of the WBS."
Suppose you are baking a cake, then "make whipped frosting" can be one of your deliverables. All the work required to make the frosting- beat cream cheese, mix sugar & vanilla, add whipping cream, etc. – would be part of the work package.
How Work Breakdown Structure (WBS) Works in Project Management?
It includes the steps begin with breaking down a project into a number of substantial chunks. And further, break each chunk of work into its principal components. These principal components get further broken down until you reach the lowest level of hierarchy with individual tasks or activities.
6 Quick Steps to Create a Work Breakdown Structure (WBS)
1. Create a List of All Tasks
Firstly, identify all the tasks required to do inside a project in the form of work packages. You may utilize the brainstorming or mind mapping method in your team in order to figure out the related steps to reach the final destination
2. Create Task Clusters
In this step, categorize all the tasks based on subject areas or time schedule. The best way to sort them depends on project content and later arrange them on a case-by-case basis. Remember, half of the batter is already won if you can start a project the right way.
3. Define Work Packages
It's time to declare the clusters in work packages. To arrange all the tasks accordingly it's also crucial to prioritize the task list. So you plan the order in which you'll perform them. It helps you to identify what needs your immediate attention, and what you can leave until later.
4. Assign Responsibilities
After placing the work packages in the hierarchy, now it's time to assign them to the associated persons. Distribute the tasks to the right person is a must. A wrong selection may slow down the work progress inside the project. Responsible team members must have the necessary time to complete their tasks having the required expertise.
5. Define Timelines for the Work Packages
After distributing the responsibilities it's important to define the work packages giving a fixed time period with the start and end dates. Also, identify which work packages are independent. You'll find some packages as interdependent. Perhaps, it's required to set their priority level. So you can decide which activities should take place subsequently, which can be run simultaneously and which can be postponed for later on.
6. Document the Work Breakdown Structure
The last step of WBS is the documentation of work details. Here you can mark each task with a coding- the work package number. This ensures every step has a fixed position in the hierarchy and all the work packages are clearly specified.
Here is the basic structure of Work Breakdown Structure in a form of graphical chart-
Work Breakdown Structure Example
Here is a example of a Work Breakdown Structure for a Car Manufacturing project. Let's see how it actually goes on-
Another example associated with all the WBS rules as follows-
How to Form a Work Breakdown Structure Using the Project Management Tool
WP Project Manager is a specialized project management tool that helps you to organize & manage projects easily. Essentially it simplifies the task of a project manager introducing an efficient way to categorize and monitor all the tasks inside a project.
Top features in WP Project Manager-
One place for all your projects, team, and internal communication
Simplifies the way you manage a project within allocated resources
Provides a bird's eye view of the workflow using Summary Report
Accelerate your working speed in an organized way
Adopting Work Breakdown Structure, WP Project Manager makes the work managing process easier than ever. Let's see how you can use it to manage your projects-
Create Projects
From the project manager dashboard, you can manage unlimited projects smoothly and track them individually.
Task List
Within a project can create several task lists to host your project tasks. Task lists can also be tagged with milestones, perhaps it becomes easy to check progress. A progress bar shows you the number of tasks completed in a task list.
Under a specific task list, you can add a number of tasks to make it aligned with the main objective.
Subtasks
After including a task in the task list, you can also break it into sub-tasks. It easy to assign a responsible person for each task. And define a timeframe for that task that has a due date and duration. Visual timeline for tasks provides a better way to measure performance and work progress at just a glance.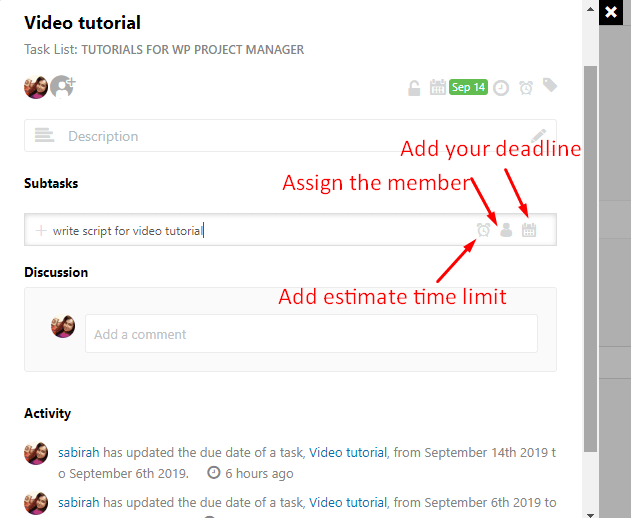 Apart from this, open discussion opportunity makes feedback sharing and team collaboration easier.
Activities
The activities page displays all the actions anyone has performed inside a project. Such as task list creation, task creation, completion, etc. It appears in a chronological manner and date-wise.
Kanban Board
Using WP Project Manager Pro you can instantly sync your task lists with your WordPress Kanban Board. This feature allows you to define and automatically move tasks from list view to the kanban board according to your preference. It also lets you preset the status of the task.
A visual representation of workflow educates you on how the project is going on and whether it can meet the deadline.
Gantt chart
Using this bar chart view you can observe the progress of each and every task created within your project.
Keep all the project details centralized and organized on the dashboard makes it effortless to manage remote teams as well.
In short, WP Project Manager lets admins and all the associated team members get a quick overview of a project, keeping everyone informed and aligned at every step of the project.
Bonus: Rules You Need to Follow When Designing a WBS
Following are the principles you should consider when designing a work breakdown structure-
The 100% rule: According to this rule 100% of the work defined by the project scope and captures all deliverables – internal, external, interim. The sum of the "child" tasks (on any level) must equal 100% of the parent tasks. You need to apply this rule at all levels within the hierarchy.
Mutually Exclusive: All deliverables and sub-deliverables in a work breakdown structure are mutually exclusive. That means they shouldn't appear twice in the system. It reduces work redundancy or miscommunication.
The 8/80 rule: This WBS rule states that the work packages or the work required to create the deliverables should not take less than eight hours and more than eighty hours.
Focus on Outcomes: The work breakdown structure should have only nouns, zero verbs. It describes the final outputs or deliverables but doesn't explain the activities you need to perform to reach there. Focus on the what and not the how.
Manage Big Projects Better With the Right Project Management Tool
Managing a big project is not an easy task. There are plenty of things to manage, such as assign team members, coordinating tasks, monitor individual progress, keep everything align with the ultimate goal, and many more. Luckily, there are several project management tools that can help.
One of the most popular ways to simplify a complex and larger project is Work Breakdown Structure (WBS). It helps you to-
Make the work distribution faster
Observe the workflow & find the gaps
Set priority, time duration, assignee, etc.
Do realistic project planning
Ensure maximum resource utilization
Identify unwanted risks & threats
When team members understand the focus and objectives, a project progresses without any confusion. In the course of this, a well-structured project management tool helps you to complete a project successfully. Also, by setting priorities and breaking the bigger project into smaller tasks, the work becomes more manageable.