Managing a project requires a lot of effort. Whether you are a newbie or have years of experience as a project manager, managing and finishing a project within time and budget is not easy. Every project is different and comes with new challenges. But following a definite project management framework surely helps project managers overcome most challenges nowadays.
Research says, only 36% of projects see the face of success.
Either the project is not completed on time, goes over budget, or fails to meet the requirements. So, why do these many projects fail or veer of the track? If we had to choose one option, we can say "lack of a solid project management framework".
Project framework is a suite of structural elements or units that create a theoretical foundation for the project management process.
Project management frameworks are the most simple way to avoid the roadblocks any project faces. It can become the foundation of successfully managing even the most complex projects. Because a framework describes the development process, helps you and your team navigate through the deadline, requirements while withstanding the weight of unforeseen challenges.
However, there is confusion in people regarding the difference between project management methodologies and frameworks. So, before explaining some of the popular frameworks, we are going to show you the difference between both of these.
Table of Content
The Difference Between Framework and Methodology
The main difference between framework and methodology is, project management framework provides structure and direction on a preferred way to do something, without being too detailed. Whereas, a project management methodology is an approach to doing something with a defined set of rules.
The project management framework is not too detailed nor rigid like the project management methodologies.
Here are some other differences:
Project Management
Framework
Project Management Methodology
Gives you an overview of how to implement the guidelines
You will find a set of rules and practices for completing the project
You can embed other frameworks
There is no scope to embed other frameworks but can embed other methodologies
It is complex to implement, so it is preferred by experts
It is very easy to implement, so it is mostly preferred by beginners
You will have room to include other practices and tools
There is little chance to include other practices and tools
Framework systematically solves a problem
Whereas methodology is a structured approach to a problem
You will get enough options for your creativity and flexibility
But when it comes to methodology, it has some pre-defined set of rules. So there is a small chance of creativity.
What we can see from their difference is the more rule it has, the more closer it is to be a methodology. A framework doesn't give you answers, rather, it guides you through a set of questions so you can develop your own solution and policy.
This all ultimately means there is no official classification that you can consult to get a comprehensive overview of all the project management methodologies and frameworks out there. And creating such a thing is impossible.
Now that you know about the differences between frameworks and methodologies, let's dive into the types of frameworks and methodologies.
Types of Project Management Frameworks & Methodologies
Project management methodologies and frameworks will come in handy only if you follow a practical approach towards implementing them. Every project manager should know what framework to choose, as every project needs a different workflow to follow.
In today's project management world, forward-thinking managers and leaders don't adhere to a single methodology—they become well-versed in many of them, and they learn how to mesh together various practices in order to accommodate whatever the project calls for.
There are so many frameworks available right now that it is tough to choose the right one. So we have tried to list the best project management frameworks, it' advantages, disadvantages, and where to use them.
Scrum framework
The scrum framework requires every team member to work together and finish the project successfully. It is a famous Agile methodology in which every team member works closely to create a product in an incremental way. There are five values in Scrum: commitment, courage, focus, openness, and respect.
In a scrum environment, the complete workflow is built around a sprint. Instead of allocating big tasks and locking up resources, scrum focuses on scrum sprint meetings with 2 weeks of tasks. They reflect on results and decide on what to do next.
Sprints are time-boxed periods of one week to one month, during which a product owner, scrum master, and scrum team work to complete a specific product addition.
Before the start of every sprint, the product manager describes the goals for the sprint, the scrum master then creates the task list to achieve the goals. During the sprint, the scrum master distributes the task and coordinates the team members to get the work done in time.
After the sprint ends, the team sits together to look back and review the results. They conduct review sessions and discuss what went on and what can be improved.
After this, the team comes up with new Sprint goals and tasks.
Advantages of Scrum Framework
It helps the team to deliver the project effectively and efficiently
Scrum ensures effective use of money and time
Large projects are easily manageable sprints
Great for fast moving development projects
As scrum is flexible, it is able to feedback and work on it
The individual effort is visible in each scrum meetings.
Disadvantages
The chance of project failure is high
Adopting scrum framework is difficult for large teams
This framework can be successful with only experienced team members
Daily meetings can become boresome.
Types of Project This Framework Suits
Projects that consist less (or equal to) than 9 people who need a flexible approach to deliver the projects.
Kanban framework
Kanban is another popular Agile framework, that is similar to Scrum. It focuses on early project delivery with collaborative and self-managing teams. The Kanban method was developed on the production line of the Toyota factories in 1940.
Kanban is a visual method. It paints the workflow process, that easily identifies the obstacles early in the development. Kanban operates on 6 basic elements,
Visulization
Limiting work in progress
Workflow management
Explicit policies
Using feedback loops
Collaborative evolution.
Kanban framework achieves efficiency by using visual cues like Kanban Boards, Kanban Cards, Kanban Swimlanes.
There are no defined rules to Kanban, it works by using a Kanban board to visualize the stages of the development process. The stages consist of from the beginning when the ideas are produced, to work in progress, to when the work is finished.
The kanban's board basic frame has three elements " To-Do, Doing, Done". They all are rather self-explanatory. Due to the flexibility of the Kanban framework, it has gained traction in the software industry. There are a lot of companies that are adopting the Kanban method for their projects.
Advantages of Kanban Framework
Enables continous development
Limits mutlitasking and improving quality
Delivering positive results much quickly
You will get a transparent overview of the overall process.
Disadvantages
You cannot use this frmaework independently
Doesn't fit into a dynamic environment
Enable to manage time
Inabilty in iteration.
Types of Project This Framework Suits
Kanban is fit for projects with smaller teams, who need a flexible approach to deliver a product or service. Kanban is also great for personal productivity purposes.
Critical Chain Project Management (CCPM)
Critical Chain Project Management framework/methodology or CCPM is a more traditional project management framework. It helps the project managers by delivering projects timely and within the budget. It spots strategic points in project scheduling and inserts buffers to ensure that each project milestone is hit on time despite limited resources and project uncertainties.
The first step of implementing the CCPM is finding out the critical chain path. Once the critical chain is identified, buffers are added to nullify any uncertainty.
Critical chain path is the longest path in the project schedule that is neccessary to meet the deadline.Critical chain project management uses buffers as a safety margin to ensure that all tasks are completed within the project schedule.
The goal of the CCPM project management framework is to create the timeline and budget that is beneficial for your business.
Advantages of Using CCPM
This framrwork makes the dependencies visible
You can easily organize large and complex projects
It helps the project manager to reduce the project duration time
Enhaces efficiency.
Disadvantages
Does not account for resources and its allocation
Too much activities for complex and large projects
For large projects it will be difficult to visulize the workflow.
Types of Project This Framework Suits
Contractors, construction, and other service companies with complex dependencies and an incentive for optimizing the timeline as much as possible.
PRINCE2
Projects IN Controlled Environments (PRINCE2) is a full-fledged project management method that describes every aspect of the development. It shows how every step should look like, clarifies deliveries in great detail, defines roles and responsibilities perfectly, and more.
This framework/methodology helps you increase the quality of the project, controls the resource allocation, increases the overall confidence of the whole team. It stands on 7 basic principles,
Ensuring the continued project viabiltiy with realistic benefits
Learn from experince and use it in the next phase
Define roles and responsibilities clearly
Always stay focused on the product quality
Ensure flexibility
Manage the project in controlled, pre-planned stages
Delegate authority based on the stakeholder's role.
Advantages of Using PRINCE2
Easy and simple to manage projects
Increases team collaboration
This framework/methodology is adaptable
Improves accountibility
Disadvantages
Doesn't matches the flexibility of other modern methodologies
Unsuitable for projects in fast-changing technological environments because of its extreme emphasis on documentation.
Types of Project This Framework Suits
This is the go-to method for large enterprise-level projects.
Lean
The lean project management methodology helps projects reduce wastes, increases efficiency, and enables you to work with tighter budgets along with shorter deadlines. It has 5 basic values,
Value, it defines the value of the customer before starting the project
Value stream, it is important to map the value stream for the entire cycle of the project starting from the required materials to delivery to the customer
Flow, this comes after eliminating all the steps that doesn't add value
Push, this make sure that the team doesn't take steps ahead of time to avoid wasting time
Perfection, improve the quality of the product through continous improvement.
Advantages of Using Lean
It results in incrased profit and reduced costs
No chance of going over budget
Increases the quality of the product
Regular communication among employees.
Disadvantages
It doesn't help when the company is going under major change
There are no clear OKRs
It can produce vague results.
Types of Project This Framework Suits
Often mistaken for specializing in manufacturing industries, Lean methodology is ideal for any business or organization that is not looking for a process as such, but is interested in transforming how they conduct doing business.
Agile
Agile is one of the most popular projects management methodologies. It is an interactive and people-centric approach to project management that focuses on responding to change over following detailed planning. It keeps customer satisfaction high, can adapt to changes even in the later stages of the project, maintains a consistent pace, keeps simplicity as a goal, etc.
Scrum and kanban frameworks are part of the Agile methodology.
Read more about Agile: Agile Project Management for Organized Task Administration
Waterfall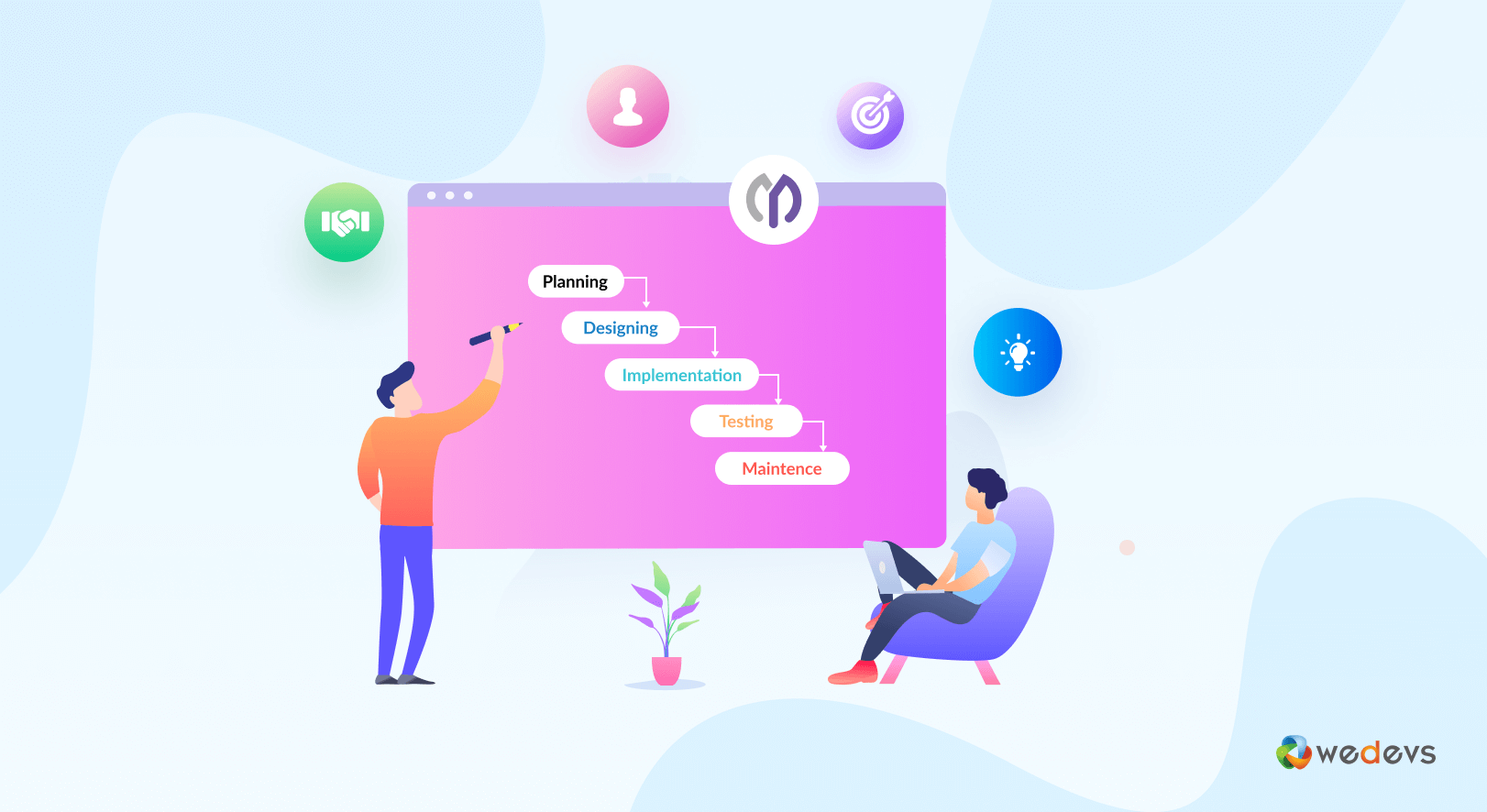 The waterfall or traditional methodology is sequential and linear in nature. Originating in the manufacturing and construction industries, its lack of flexibility in design changes in the earlier stages of the development process is due to it becoming exuberantly more expensive because of its structured physical environments.
It has 6 phases,
System and software requirements
Analysis
Design
Coding
Testing
Operations.
Read more about Waterfall: A Comprehensive Guide to Waterfall Methodology in Project Management
Things to Consider When Choosing a Project Management Framework/Methodology
Choosing the right framework is important because it will define how you will manage the project. Also, it will provide you with the structure that can guide you towards the project's failure or success. Now that you know about different kinds of project frameworks and methodologies, you may get confused as to which one to choose.
So, we have come up with some points that will help you choose the perfect framework for your project.
Consider Project Factors by Their Simplicity or Difficulty
When you are choosing the method, consider the difficulty or the size of your project. List all the elements attached to your projects and label them according to their difficulty/simplicity. Then choose your method accordingly.
Observe Your Work Environment
If you are working in a dynamic environment where there's an appetite for evolution and change, an Agile methodology can work well for you. If you're working within very fixed requirements, timelines, and budgets, you might be better off with a Waterfall approach.
Choose the One That Delivers the Most Value
If your client generally makes ongoing requests and expects constant updates then an iterative methodology with short cycles will help the client feel like they are getting more value. Using this methodology will help you deliver value and maintain positive relationships with clients.
Consider Your Organizational Values
Some methodologies may suit the project but may not suit your team. So, take a deep dive into your team member's habits, opinions, and values. Then choose the framework that goes with it. Instead of taking a trending methodology and throwing it at your people, use the ways your people think, relate, and work to build out a methodology that's a natural fit.
Manage Your Projects More Efficiently Using WP Project Manager
We have talked about the project management frameworks, methodologies, and how to choose them. But, to manage a project and to apply your preferred framework successfully you will need a tool. That can be WP Project Manager.
WP Project manager is a popular WordPress plugin that allows its users to handle all project-related tasks right from their dashboards. It creates a central hub to connect all the employees in one place. Admin can create multiple projects and team members can see the progress of their tasks.
Related Article: How to Improve Team Productivity Using WP Project Manager
Top Features of WP Project Manager Include:
Time tracking
Interactive Task Calendar
In-project Discussion
Invoice facility
Gantt Chart
Email and Push Notifications
Kanban Board and more
Conclusion
Whether your project will achieve success or not, will largely depend on the project management framework or methodologies you choose.
Each of the frameworks/methodologies comes with pros and cons. Picking the right one will make your project smoother and your team more efficient. But keep one thing in mind, the method that worked for the other team may not work for you.
Measure all the facts and choose the right project management methodologies and framework.